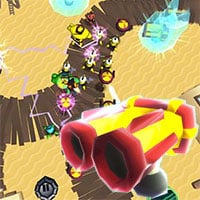 Alien Invasion TD. Protect planet earth from alien invasion as you build towers to stop aliens in their tracks.
You will have to defend against waves of incoming alien creeps. By building defense towers, recruit units and heroes. Get ready for a super thrilling experience. Each level is specially designed to make you rethink the defense strategy. And use different units, towers, and heroes to beat the alien creeps, TD is all about strategy. You will be challenged to reconsider your tactics and use different towers and heroes to complete the mission. Each mission has three levels of difficulty and two special modes with player handicap. Enjoy and have fun in playing this game.
Alien Invasion TD is a free online strategy game on Round Games.