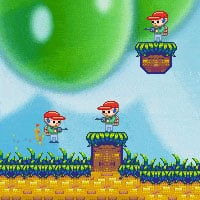 Project Gun Game is a massive multiplayer game that lets you fight other players, as well as create your own world in a cute sandbox game. The game features an in-game level editor that allows you to create your own level from scratch by adding objects, terrain, etc. You can save the level and invite your friends or other players to join. You may also join on other player's world and build together or fight together! Create a very large level with your friends and then blow them to smithereens in this awesome 2D game. Earn XP and level up to unlock new items and weapons!
Create your own world or join on others and go on a shooting frenzy in this awesome 2D sandbox shooting game – Project GunGame! Go in editor mode and build your level and invite your friends to play.
Project Gun Game is a free online action game on Round Games.