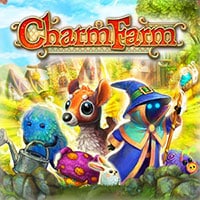 Welcome to Magic Forest, Enchanter in Charm Farm Game! We need your help to restore its magical powers and the beauty of the old days. We have been waiting a long time for you! Now it's your chance to turn this tiny village into an incredibly beautiful Land of Magic! You won't be alone with this task, though – it's time for you to get to know the cute Shmoos!
They are ready to help you with any task in Charm Farm Game, and you can also try your spells on them so they complete their tasks quicker! Lots of other colorful characters are waiting for you, as well as dozens of magical creatures, hundreds of gorgeous buildings and magical constructions, thousands of fun quests and, of course, tons of magic! Grab your friends and play Charm Farm with them! So enjoy and have fun.
Charm Farm Game has a high-quality animations, cut scenes and graphics, plenty of characters, artifacts and resources.
A stunning magical environment, with hand-made drawing scenes like in the most charming fairy-tales.
Exciting quests and missions to restore the magic of the Forest.
Magic. There's nothing impossible, nothing you cannot create in this beautiful world!
And most importantly, a great gaming experience and lots of fun in Charm Farm Game!