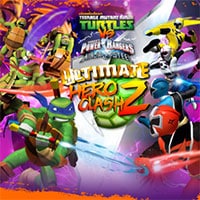 TMNT Vs Power Rangers 2. Clash between two super heroes: Teenage Mutant Ninja Turtle and Power Rangers, which team are you on?
Represent Team TMNT or Team Power Rangers as you do battle it out on the main stage to see who is better.
Use cool combos, fighting moves, and your quick wits to become the winner.
Who'll be the last one standing? This game is one of the cartoon fighting games on Round Games. Enjoy and have fun in playing this free online game. Good luck.
TMNT Vs Power Rangers 2 is a free online fighting game on Round Games.