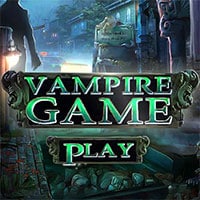 Vampire Game: Today's player is trapped in the Vampire Gilbert's property. Gilbert is the last vampire in the Kingdom of The Blood Fans. Our player is trapped into vampires' castle, he is horrified and bags for mercy. Gilbert lives all alone for centuries and simply needs a company. That's why very often he traps someone from the close village just to keep him company and have a conversation.
In Vampire Game: He promised our player that he wouldn't do him any harm, and that he would release him. But, first of all, his principle condition was for our player to accept playing one favorite game of Gilbert in his Vampire Game. He loves hiding objects in his property and if the guest wants to be released. So he has to find all the hidden objects around. The pursuit of the objects starts and the vampire is very happy with his company. Let us see who will manage to save its head and go back to village and who will stay a little bit longer at Gilbert's place. So enjoy and have fun in playing this free online game. Good luck.
Also make sure to check out The Vampire Masquerade Game. You may enjoy playing it.