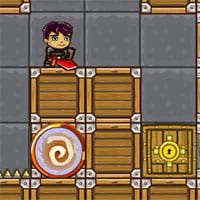 Cupid Soldier is a cool puzzle game where you must rotate the world to move your character. In this game, your girlfriend has been kidnapped by bandits. Take control of a young man equipped with a sword and go rescue the girl. In every level, you must get the heart to open the door and go to the door to proceed to the next. To get the star, you must complete the level with as few moves as possible. Enemies are found on later levels, you must defeat the enemies to reveal the heart.
Your girlfriend has been kidnapped! Turn the world upside down to get her back in this fun and challenging puzzle arcade game – Cupid Soldier. Get the heart on every level to open the lock on the door and proceed to the next level!
Cupid Soldier is a free online puzzle game on Round Games.