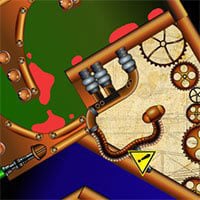 Fuel Conductor is a steam punk themed liquid puzzle game where you must guide a volume of liquid to a colorful mechanical world. You must turn the world so that the liquid won't hit obstacles like fire and lasers. Losing some liquid is normal, but losing it all spells game over. The game features 10 awesome level where you must transport the fuel to the vehicle to get it moving! The more fuel you successfully transport, the bigger the points you'll get. Try to aim for the three-star rank and Have fun!
Guide your fuel through a steam-punk world by rotating the entire world! Avoid various obstacles in this challenging puzzle game – Fuel Conductor! Try to get as many volume of liquid as you can to gain more points.
Fuel Conductor is a free online puzzle game on Round Games.