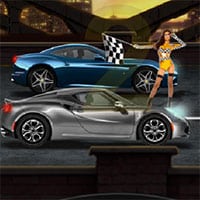 Gear Madness is a fun side-scrolling linear racing game where your goal is to be the first to cross the finish line. The game features 10 levels with each opponent tougher than the last. In this game, you can use the money you won by upgrading your vehicle's performance. You can upgrade the gear, the acceleration, or add nitro boost. Time your acceleration and your gear shifts properly to gain bonus speed.
Conquer the streets and become the king of street drag racing in this fun linear driving game. Try to win all 10 drag races in Gear Madness! Upgrade your car so you can drive even faster in the next round!
Gear Madness is a free online racing game on Round Games.