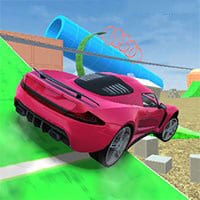 Madalin Stunt Cars 2 is an open world driving simulation and racing game where you pick from an array of Super Cars from popular brands like Lamborhini, Ferrari, and Pagani and drive them on various places. The game features beautiful 3D graphics and huge open-world locations including massive play ground for vehicles. The game also features a multiplayer racing mode among many others. Perform stunts, do a test drive, or even perform a crash test! Enjoy this wonderful game with a friend!
Drive super cars on a crazy car play ground in this awesome 3D game. Hop inside your Lamborghini or get behind the wheel of a Ferrari in Madalin Stunt Cars 2! Start driving and perform various stunts in an open world environment! Enjoy and have fun in playing this free online game.
Madalin Stunt Cars 2 is a free online racing game on Round Games.