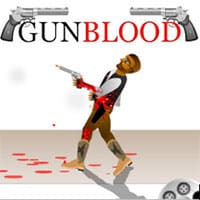 Gunblood HTML5 is a fast paced duel shooting game based and a port of the original classic flash game Gunblood. This HTML5 port of the classic game allows the game to be played anywhere and anytime even on mobile browsers on phones and tablets. Develop your speed and accuracy as they are the key to winning the game. Shoot vital parts of the enemy to deliver more damage. There are also a few mini-games in between several rounds to boost your points. Get as many points as possible and try to make it to the leaderboard in this challenging game and highly addicting game.
Test your reflexes once again in this awesome western style shootout duel! Bring the challenge anywhere in Gunblood HTML5! Practice your quickdraw and eliminate everyone to claim the leaderboard for your own!
Gunbound HTML5 is a free online shooting game on Round Games.