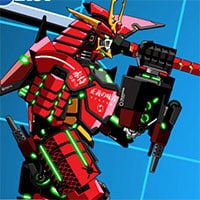 Battle Robot Samurai Age is another entry to the cool gaming series Battle Robot. In this game, unlike animals and dinosaurs, in this game, the theme is to create a robot based on Japanese' traditional fighters – the Samurai. Similar to the other Battle Robot games, gameplay is separated into various part: Assembly, where you can create your mechanical bot piece by piece, and turn-based combat. Where you train or battle against other opponents with the goal of destroying the enemy.
Assemble the mecha of your dreams and create a bot that every man dreamed of! Train your robot and fight some epic battles in Battle Robot Samurai Age! Battle your opponent robots with a 10 storey-tall samurai mecha!
Battle Robot Samurai Age is a free online action game on Round Games.