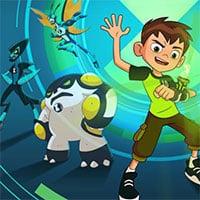 Ben 10 Hero Time is a platformer video game based on the popular TV animation series Ben 10. In this game, Billy Billions has stolen the Rustbucket for some of his evil plans. You must take control of Ben 10 as he tries to spoil Billy's plan by using the power of the Omnitrix to overcome various obstacles. Each alien he transforms to has its own unique power. Smash boulders, fly, dash, and shoot fireballs with the help of the alien powers.
Join Ben Tennyson as he transforms himself to become one of his 10 alien forms to stop Bily Billions and his plot in Ben 10 Hero Time. Use each alien's special power to overcome various obstacles and save the day.
Ben 10 Hero Time is a free online action game on Round Games.