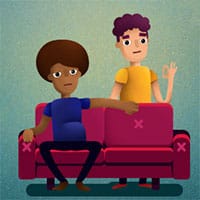 Bounce Bounce, The Couch! is a funny yet bloody arcade game where you take control of the two only sane people in the world; Pete and Joe. A virus breakout turned everyone into suicidal maniacs. Help the two buddies catch as many people as they can using a couch! Watch out for fat people as you won't be able to support their fall! Gather power-ups to add more time, extend your grandmother's couch, or power the couch's bouncing abilities.
The end of the world is here and everyone is going crazy! Join Pete and Joe as they try to save as many lives as they can in Bounce Bounce, The Couch! Catch power-ups and send the people into orbit!
Bounce Bounce, The Couch is a free online action game on Round Games.