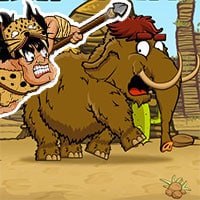 Caveman Hunt is a funny distance launching game where your goal is to throw the caveman as far as possible and hunt down the woolly mammoth for food. Collect coins and use it to upgrade your equipment, tools, and skills. Use the prehistoric creatures and objects lying around to maintain your momentum and get that fleeing mammoth once and for all.
The mammoth is running away! Grab that spear and take it to the skies in this funny prehistoric launching game! Press the caveman at the right moment to increase the speed and distance to travel.
Caveman Hunt is a free online action game on Round Games.