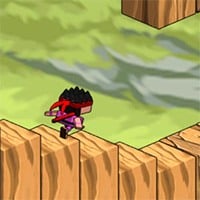 Cube Ninja is an HTML5 skill-based reaction game where you take control of a little ninja in his final test to become a ninja master. In this endless running game, the ninja will continue to run forward! The ninja can't jump or climb any platform and his goal is to keep running without stopping even for a while. To overcome various obstacles, you must defy gravity itself! The more distance you cover in one run, the greater the score you will get!
Use your ultimate ninja skills to defy gravity! Run as far as you can, as fast as you can in this endless running game – Cube Ninja! Collect various objects to earn bonus points and try to get as much points as possible!
Cube Ninja is a free online action game on Round Games.