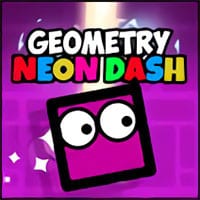 Geometry Neon Dash is a single button platformer running game where your goal is to simply collect stars and avoid all dangers as long as you can and travel as far as you can. Earn high score by collecting stars and avoiding death. The game is an enhanced version of the popular Geometry Dash and showcases bright neon colors. The game records the number of death, the stars collected, and more. Will you be able to beat your own high score?
Run and jump as you avoid danger and follow the rhythm in this fun skill-based arcade game! Collect as many stars as you can in Geometry Neon Dash! Earn points and unlock more than 20 different characters to play!
Geometry Neon Dash is a free online action game on Round Games.