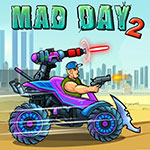 Mad Day 2 Special is the amazing sequel of Mad Day Game. It's showtime again! In Mad Day 2 you set out for revenge and try to rescue Fluffy. Ride, shoot, jump and smash your way to victory in this fun vehicle runner. Your duty to serve humankind will never stop even after you retired. Help an ex-Marine named Bob battle aliens. Save your beloved pet octopus while you're at it.
TIME TO POUND SOME PREDATORS!
Taking on an army of aliens isn't easy in Mad Day 2 Special Game and Bob could really use a helping hand. It's up to you to customize his truck and turn it into an awesome war rig by loading it up with shotguns, cannons, lasers and rocket launchers. Add the finishing touch by slapping on some super armor and Bob is good to go and unleash his fury on those evil aliens who've taken what's his!
SURVIVE IN STYLE
During your battle in Mad Day 2 Special Game, you'll want to collect coins to buy weapons and speed boosters. Oh, and pick up some crazy stylish outfits while you're at it as well. Just because you're eliminating aliens doesn't mean you can't look cool while doing it, right? If you're low on cash, it's not the end of the world either, just play some of the fun mini-games to replenish your funds and to continue your shopping spree! So are you ready to defeat the aliens, save the world, and reclaim your pet squid? It's time to find out in Mad Day 2 Special Game!
Also make sure to check out Slap King Game, you may enjoy playing it.