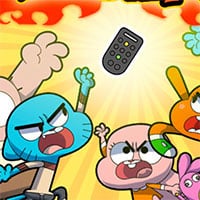 Remote Fu Gumball is a fighting video game with lots and lots of mini-games included. The game is based on the popular Cartoon The Amazing World of Gumball! In this game, the Gumball family all wants a different TV show to watch at the same time. And now the control of the TV boils down to whoever holds the remote control. Fight for the remote control and earn the right to watch your favorite TV show! Will you be the winner?
The battle for the all-powerful remote control has started! Fight against your family members to get the remote in Remote Fu Gumball! Compete against everyone else and unlock the characters one at a time.
Remote Fu Gumball is a free online action game on Round Games.