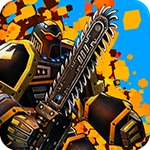 Robot Hero City Simulator, it is a simulation action game in which robot starts new life in big city. Finish crazy missions and have fun! The robot will complete many exciting tasks. He will fly over the city with a jet pack, shoot from the bazooka, escape from the police and the military. In order to survive in the city, the robot has such weapons as a giant hammer, ax, spear, sword and other weapons. A lot of upgrades are available to the robot in Robot Hero City Simulator Game. For example, you can upgrade strength, life points, speed, obtaining bonus points and coins, jet pack and bazooka using time. This game is exactly suitable for the robot fight game lovers who want to play a game in their time. So enjoy and have fun.
GAME FEATURES:
Different types of weapons.
The police and the military will pursue the player.
Make a mess. Break cars. Destroy the blocky city. Attack people
Fire a bazooka. Fly over the blocky city with a jet pack. Huge blocky city to explore.
Robot Hero City Simulator Game has crazy missions.
Destructible objects.
Cool 3D low poly graphics. Upgrade your robot.
Get a combo when destroying several objects. The more destruction, the more points!
Get free rewards every hour. Collect the coins, so they will be useful to you.
Robot Hero City Simulator has day and night missions.
Also make sure to check out Super Crime Steel War Hero Game, you may enjoy playing it.