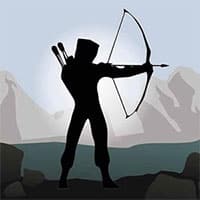 Shadow Archers is a cool archery game where you must fight against other archers on different game modes. The game features a total of 5 different game modes; Castle, Duel, Siege, Story, and Conquest. In Castle mode, you will fight off against multiple archer defenders and shoot them down before they can defeat you. In Duel Mode, you must battle against an AI or with another player and get more hits and kills against the other to win. If you like the game, please consider supporting its authors and promoting the game.
Put your archery skills to the test and shoot down all your enemies in different game modes. Fight with enemy AI or with another player in Shadow Archers! Only your speed and accuracy will help you survive.
Shadow Archers is a free online action game on Round Games.