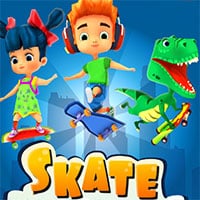 Skate Hooligans is an endless running reaction-based video game where you take control of a young boy who just broke someone's window. Unfortunately, you were caught red-handed by an officer of the law and is now chasing you. Good thing you brought your skateboard! Travel as far as you can before getting caught and try to collect as many coins as possible to unlock power-ups, new skates, and even new characters. Outrun the cop while skating through the busy streets!
You broke someone's window with your soccer ball! And what's worse is that the local police officer saw you! Run as fast as you can with your skateboard and escape the authority in Skate Hooligans!
Skate Hooligans is a free online action game on Round Games.