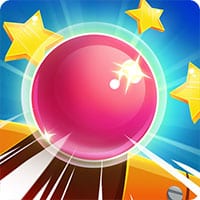 Slope Roll fast on the platforms! Take boosts! Fly in the air as long as you can to improve your score! But don't fall down! Slope Roll is a 3D endless running game with simple controls, breakneck speeds, and a super addictive gameplay. Ever wondered what would happen if you took a bowling ball and threw it down a one-way track in a Tron-like universe? Well, thanks to Slope, you get to find out.
Although its controls are as simple as they come, the pulse-pounding action and breakneck speeds literally make you feel like you're on a roller coaster. Needless to say, this game isn't for the faint of heart. But if you're looking for a way to test out your reflexes in one of the toughest running-style games around, then Slope Roll Game is for you! How long can you survive in the mad 3D world of Slope? Enjoy and have fun.
Also make sure to check out Slope Game and Helix Run Game. You may enjoy playing them.