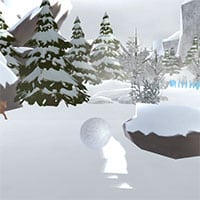 Snow Crush is a snow rolling distance type of game where your goal is to endlessly roll and make yourself bigger while collecting ice shards along the way. Start from being a small snowball and roll your way bigger. Roll down a snowy mountain and accumulate more snow to increase in size. Avoid trees, bears, foxes, stones, and other animals and obstacles as they will decrease your size and make you smaller. If you are small enough, one hit from any of the obstacle might make you disappear. How big can you make your snowball grow?
Make the biggest snowball the world has ever seen and keep rolling that ball to make it bigger than the mountains in Snow Crush! Avoid big obstacles, trees, and animals as you try to collect more snow along the way.
Snow Crush is a free online action game on Round Games.