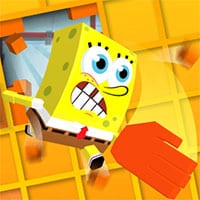 Play three different mini-games: Go Ninja go, winging it, and Chum Chop in Spongebob Arcade Action. Enjoy and have fun in playing Spongebob Arcade Action Game. Make sure to check out Spongebob trail of the snail Game. You may enjoy playing it.
Also make sure to check out these games, you may enjoy playing one of them:
Free Fur All – Taz Mechanic Simulator – Kumba Kool – Germania The Explorer – Scalak – Bolderline – Tina Detective – Tina Pop Star – Adam and Eve 7 – Tina Costume Party – Adam and Eve 6 – Kite Kittens – Nina Great Summer Day – Alley Oop – Penguin Quest 2 – Pockey.io – The Ways Game – Crazy Courier – Rebounce – Adam and Eve 4.