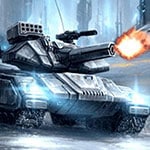 TANKS Sci-Fi Battle is a top down tank shooting video game with absolutely gorgeous graphics, sci-fi setting, and cool effects. In this game, you will drive a futuristic tank with advanced battle capabilities. Each tank has its own unique stats and characteristics with their smart artificial intelligence behavior and equipment on board. The game features a total of 8 different tanks and numerous turrets, 34 missions with even more missions to come, and more. So will you be able to complete all available missions? And prove that you can drive an advanced tank well beyond our current technology?
Get ready to wage war with your advanced war machines! Shoot rockets and cannons with the futuristic battle tanks in TANKS: Sci-Fi Battle Game! Battle against other tanks and complete your mission! So enjoy and have fun in playing this free online game. Good luck.
Also make sure to check out Tanki Online Game, you may enjoy playing it.