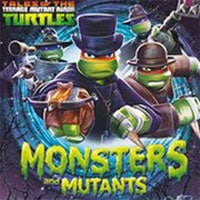 TMNT Monsters vs Mutants is a fun and exciting platform game featuring your favorite heroes – the Teenage Mutant Ninja Turtles! In this title, our heroes are fighting a master of time – Sanvanti Romero. They must travel through time and follow him in order to try and capture him and defeat the monsters he has unleashed.
Choose two of your favorite turtles (Michelangelo, Donatello, Leonardo or Raphael) and use a range of cool attacks to defeat the evil monsters and time master. You must work through a series of levels, each of which has a different theme and enemies. Watch out for deadly traps and avoid taking damage. Can you bring Sanvanti Romero to justice and put a stop to his evil plans?
TMNT Monsters vs Mutants is a free online action game on Round Games.