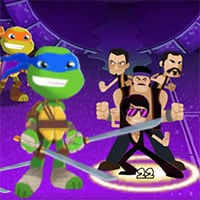 TMNT Pizza Quest is an action-strategy video with a mix of RPG and incremental clicker. In this game, the ninjas must fight enemies that are slowly getting stronger each time, to get their reward pizza. Earn money by defeating the enemies quicker and use the money to upgrade items, buy furtnitures and accessories, and buy all the famous pizza in the menu! Will you help the team get a taste of the extremely good pizza The Tuna, PB, and Jelly?
Everyone loves pizza! But the teenage mutant ninja turtles love it more! Help the ninjas defeat bad guys and get their reward pizzas in TNMT Pizza Quest! Will you be able to help the TMNT eat the most expensive pizza? Good luck!
TMNT Pizza Quest is a free online action game on Round Games.