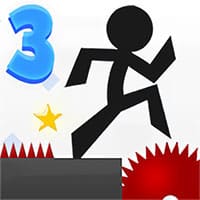 Vex 3 is a challenging platformer game and is the third installation of the series. The game features even more dangerous platforms and challenges to get through. Vex also added ghost recording that will record your game so you can observe and beat your own style. On top of that, Vex also added a new features called stage builder that allows you to custom made your own stage. Survive all levels and unlock special modes and the final Vexation level.
Join the adrenaline fun and play the fast-paced platformer game filled with dangers and challenges. Beat your own record in Vex 3 Game! Use different blocks to take advantage of the field, pass through flags to activate the check point and avoid deadly saws as you go from one place to another! Make sure to check out VEX 4 Game.
Also make sure to check out Ghost Wiper Game. You may enjoy playing it.