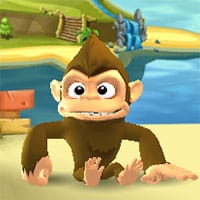 You have traveled to Adventure Island and you control the cute and adorable monkey Bobo. Bobo is bored of his everyday life and he wants to spice things up. And find adventure by exploring new and exciting locations on this interesting island!
Bobo moves automatically, and you must use the left click mouse button or space bar to jump. Time your jumps perfectly to move onto different platforms and avoid the myriad of dangerous objects on each level. Collect golden coins as you progress. You can use these coins to purchase awesome outfits for Bobo. This game is fast-paced and fun, and has a plethora of engaging and exciting missions. Enter Adventure Island today!
After the game starts, click on the fullscreen button inside the game to play it on a fullscreen mode.
Adventure Island is a free online adventure game on Round Games.