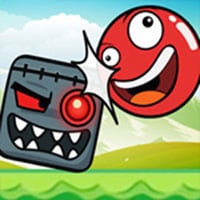 Ball Hero Adventure: Red Bounce Ball is a brilliant arcade game in which you must control a red ball. You must use the controls to move the ball through a series of challenges and obstacles. In each level, you must reach the finish line unscathed and avoid everything that is thrown your way. Guide your red ball hero in his amazing ball adventure. With over 50 different levels to complete, this game has great longevity, and you can have fun for hours! Red Adventure Ball is one of the most interesting bouncing ball games (red rolling ball – ball jumping games). If you have been interested in the earlier versions of Red big ball, you cannot ignore this Ball Hero Adventure Game. So with the simple control, attractive features and challenging adventures, Red run ball can be regarded as one of the best red bounce ball game!
In this comeback of Red jump ball, players will be surely excited. Thanks to the amazing and exciting bounce ball challenges in Ball Hero Adventure Game. In the bouncing ball, players have to roll the ball, make it move smoothly to avoid evil obstacles on its way. When you play this bounce ball game, your mission is not only to roll ball by ball and help it avoid the impediments. But also to collect all the yellow stars to go on your adventure. This game is exactly suitable for the game lovers who want to play a game in their time. So enjoy and have fun.
Ball Hero Adventure: Red Bounce Ball Game Features:
2D side-scrolling platformer game.
Different kind of puzzle challenges to solve. 60 level. Live system.
You can play Ball Hero Adventure: Red Bounce Ball Game in Fullscreen.
Also make sure to check Heroball Adventures Game and Bounce Balance Game. You may enjoy playing them.
The gameplay video is available on YouTube: