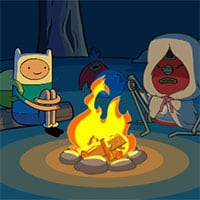 Fables of Ooo Return of Rattleballs is an action platformer video game based on the cartoon Adventure Time. In this game, you will follow the stories of RB as he tells Finn the Human his tales. Be careful as RB only has 3 gumballs to spare before he runs out. This gumballs act as RB's life points. There will be a couple of RAM-looking computer parts hidden in every level, try to collect and find them all before getting the final piece.
Control the fearsome gumball robot and strike your foes to collect various computer junk in Fables of Ooo: Return of Rattleballs! Try to unlock the secret in every level and get all the parts!
Fables of Ooo Return of Rattleballs is a free online adventure game on Round Games.