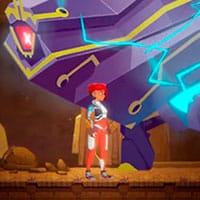 Germania The Explorer is amazing action adventure platformer, explore and find weapons and defeat the boss. This is an adventure game where you are going to go and explore together with Germania, a women adventurer, who wants to see what this new world promises her. You are going to use the WASD keys to move, the space bar to jump, O to fire a range weapon, and K to use a melee attack. You have to go around, grab any items that can help you be better and stronger, and defeat any enemies that might come up in your path.
There will also be all sorts of obstacles, pits, and traps that you need to be weary of, since you do not want to lose all your lives, and then the game, right? Good luck, and invite your friends over as well, for them to also have fun!
Germania The Explorer is a free online adventure game on Round Games.