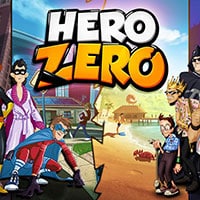 Hero Zero. Who hasn't dreamed of having superpowers at some point? Finally, Hero Zero makes it possible! The shower curtain turns into a cape and the old plunger converts into a weapon before going out onto the streets to fight for law and order. Evil is put to an end as a stranger from next door. Chase away vacuum salesman, catch prank buzzers, and get little kids their candy back.
Create your own hero, invite your friends and build your own team of superheroes. Fight against other teams in group battles for control over the city! Write your own heroic legend! What are you waiting for? Enjoy and have fun in playing this free online game. Good luck.
Make sure to check out This Game. You may enjoy playing it.