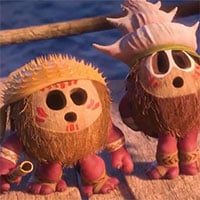 Moana Kakamora Kaos is a fun platformer adventure game based on the new Disney animated film Moana. In this game, you must help lead a group of 5 coconut-like creatures of the Kakamora tribe pirates to go to the watchtower to present themselves to the chief of the tribe who has summoned them. Complete the task as quickly as possible by overcoming various obstacles and collecting stars that will give some time bonuses. Will you be able to reach the tribe chief quickly enough to not get scolded?
The chief has summoned the 5 Kakamora pirates! Help the 5 walking coconuts get to their tribe chief as quickly as possible in Moana – Kakamora Kaos! Run, jump, and collect the time bonus stars to get the chief!
Moana Kakamora Kaos is a free online adventure game on Round Games.