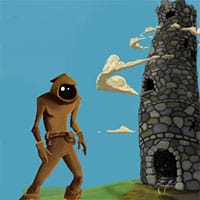 Rogue Quest Episode 2 is the second installation of a point and click mystery video game. In this game, you will take control of a member of the rogue's guild. But unlike the first episode where you will play as Konrad Meridian, in the second episode, you will play as Jheed. The game begins when you are told by Konrad to go to a hidden and legendary tower to find the great treasure. Solved puzzle to unlock doors and secret passages. Collect and combine items to help you in your quest. Get the treasure and free the soul of the queen from the curse!
Another adventure awaits you in an old tower that kept a mysterious curse in Rogue Quest – Episode 2! Look for the hidden treasure and find a way to lift the curse of the queen.
Rogue Quest Episode 2 is a free online adventure game on Round Games.