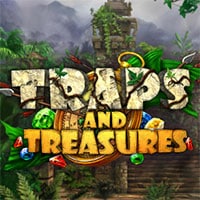 Traps and Treasures. Join two daring tomb raiders in a South American amazing adventure, especially if you fall into one of the many traps blocking their way to the legendary treasure of the lost Mayan city. It's not another runner, this is adventure game with logical elements!
Be ready to long, unforgiven trip in uncharted places. In the jungles, filled mystical secrets, behind ancient ruins, tombs and dungeons, with many danger traps on a way. Smart labyrinths come to magic Mayan temple with mysterious treasures in a final.
Impeccably finish levels, become nimble tomb rider, and receive a gold coin. Collect items, artifacts and jewelry, to help in the hunt for treasure in the passing game. In addition to exciting gameplay, the game will involve you in the gameplay its intriguing storyline with an unpredictable ending.
Traps and Treasures is a free online adventure game on Round Games.