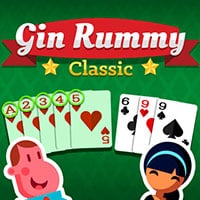 Gin Rummy Classic. Test your Gin Rummy skills in this fun version of the popular two-player card game! Choose between different opponents, each with a different playing style. Select one who matches your skill level and try to earn the most points. Sort your cards to form sets and runs, keep an eye on your opponent and use the right strategy to win! Are you able to get a Gin?
The object of the game is to collect a cards in your hand. Where most or all of the cards can be combined into sets (same rank) and runs (same color and consecutive order) and the point value of the remaining unmatched cards is low. Pick cards from the open discard pile or the closed stack. You can knock when the total value of cards not in set or runs is 10 points or less.
If you enjoy playing this game, you will enjoy playing Gin Rummy Plus.
Gin Rummy Classic is a free online board game on Round Games.