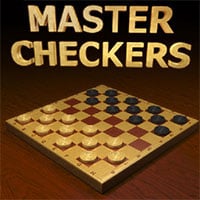 Master Checkers is an HTML5 video game based on the board game Checkers. The game features a pretty clever AI that will sure to beat you if you're not paying attention. If you can't beat the enemy AI, try fighting against a player. The game also features 2 player versus mode where you can compete against an enemy player and have fun!
Do you love playing a game of checkers? Then spend time beating the clever AI in this cool checkers video game – Master Checkers! Gobble up all the enemy pieces and make sure to prevent your enemy from eating yours in this fun strategy board game.
Master Checkers is a free online board game on Round Games.