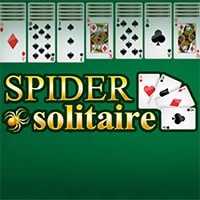 Spider Solitaire Online is a card game where the anime is to remove all the cards in the given amount of moves. The game has over 300 levels that get increasingly harder the further up the map you go! Based around the popular Tri Peaks version of the classic card game. Players must clear the dealt cards by removing any that are one value higher or lower than the top card on the deck. Spider Solitaire Online Game gives players a different card layout each time, offering increasing challenge and complexity. Thankfully, there are no actual spiders involved in the making of this. So the more squeamish among you can rest easy knowing no eight-legged friends will be visiting you through your screen.
The first few levels offer an in-play tutorial. Taking you through the steps of how to play the Spider Solitaire Online Game and showing you how to clear the cards. Below is a bit more information about more advanced features such as boosts and earning coins. These concepts will be familiar to anyone who's played web-based games before. Especially those on social media sites, so you'll have no trouble picking up the rules and strategies of Spider Solitaire. With 300 levels to bamboozle and perplex your playing skills. Spider Solitaire Online Game is an addictive burst of fun you'll be unable to put down.
Also make sure to check Spider Solitaire: 2 Suits Game, you may enjoy playing it.