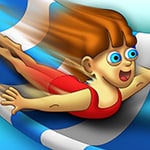 AquaPark.io is a crazy water slide racing game with fun mechanics. Overtake other players by jumping off the track and landing further down or simply kill them by pushing them off. Aquapark io is an immense sunny water slide game. Summer is here and everyone wants to race and have fun. What better place to do this than at a waterpark? Aquapark.io Game puts you in literally right in the action on top of your own rubber dingy at the start of an immense water slide.
The winner of the race is the first one to reach the finish line and splash in the pool. Other players during the race will try and slide past. To speed up, tilt the rubber dingy and angle it up to the banked corners. The angle must be perfect otherwise the dingy could catapult off of the water slide into the depths of the ocean below. As the watercraft goes hurtling down the slide, bump other players and try to knock them off or slow their progress.
AquaPark.io gameplay is unique and like no other io game available:
Users will have immense fun playing this colorful and engaging game. The gameplay is unique and like no other io game available. AquaPark.io Game combines excellent multiplayer action together with fun game mechanics and superb graphics. Each player has their own small ding and username displayed above their head. Moreover, a meter displays at the top that shows a players current position.
The colorful and sunny water below provides a cool setting for the race in AquaPark.io Game. Moreover, the different twists and turns in the track mean that concentration and quick reflexes are key. To jump ahead in the race, a player can time their jumps to catapult them off the ride of the map. They can then use a glider to swoop down and re-enter the slide at a lower point. Timing is key and it is a risky move. Coins can be collected when racing to unlock new dingy types. A player's coin score is listed in the top left-hand corner of the game screen. See who can conquer the Aquapark and triumph as the racing champion. So enjoy and have fun in playing AquaPark.io Game.
Also make sure to check out WaterPark.io Game, you may enjoy playing it.