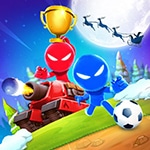 Welcome to the Stickman Party Game! Here you will find a lot of fun and cool entertainment! In the game "Stickman Party", you can take part in exciting games with your friends. Eight mini games await you at the party: football, race, battle on tanks, race on micro machines, color challenge, gold box, ball competition and victory push. To participate you need a partner and you can play for two.
The essence of all mini-games is very simple in Stickman Party Game:
The winner is the one who is ahead of the opponent and the first to cross the finish line or score more prize points. In the race you will compete with your opponent in agility. Two Stickmen will run in parallel, and the task of the players is to overcome all obstacles in their path. And overtake the opponent in Stickman Party Game. In the battle on the tanks, the Stickmen have to arrange a cool battle. Where only one can become a winner. Then you are waiting for the race on micromachines, where only speed and quick reaction will help to become a winner.
But the football champion in Stickman Party Game will be the one who can score more goals against the opponent during the match. Stickman wins in a color match, who paints most of the field with his color. But in the golden box the winner will determine only the skill of the players. These and other games are already waiting for you! All challenges at the party of Stickmen will bring not only joy, but also help to develop their skills. So enjoy the game and good luck!
Also make sure to check out Stickman Rush Game, you may enjoy playing it.