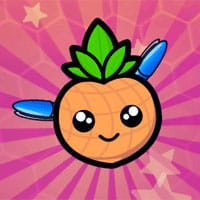 Super Pineapple Pen 2 is a fun skill-based arcade game where your goal is to strike various fruits with pens. The goal of the game is to put as many pens into the fruit without hitting other pens. Collect coins and get super high score. Watch out for special fruits with armors and other defenses. Purchase new pens with the coins collected and unlock new levels and buy new objects as you play. Share your high score with your friends and have fun!
Use the pen and poke the apple and other fruits in this fun arcade game based on the random internet sensation – Super Pineapple Pen 2! Poke as many fruits as you can and watch out for the special fruits with cool abilities and defenses.
Super Pineapple Pen 2 is a free online cool game on Round Games.