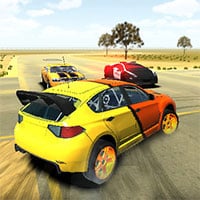 3D Car Simulator, as the name dictates, is an open-world, 3D generated car simulation game where you are free to roam and do anything you want. In this game, you can test drive your beautiful car or submit it to a crash test course. Drive a yellow rally car, a classic corvette, or a stylish Lamborghini police car! Check out the game's beautiful physics engine and drive around like a madman.
Mess around the tracks and mess around your car in this 3D open-world car simulation game. Test drive your beautiful sports car in 3D Car Simulator! Go top speed through the city streets with your classic corvette, or go on an off-road chase with the police car.
3D Car Simulator is a free online driving game on Round Games.