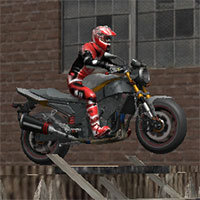 Bike Trials Wasteland. This region is in pretty bad shape and the people who once lived here left a long time ago. That means it's the perfect place to put your virtual motocross skills to the test! Jump on a bike and blast through forgotten playgrounds, dilapidated neighborhoods, abandoned factories, and much more. Just watch out for all the booby traps and other hazards out there in this thrilling racing game.
Become a professional motorcycle stunt performer that have the skills to conquer any course in Bike Trials: Wasteland. Step into a simulated 3D world with obstacles setup to test your driving and balance skills of your bike to the limit. Your goal is to make it to the finish line in the fastest time possible without crashing. Will you be able to beat Bike Trials: Wasteland?
Bike Trials Wasteland is a free online driving game on Round Games.