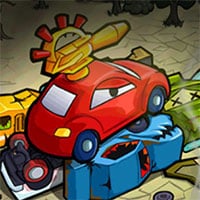 Car eats Car 6 is the latest installment of this fun and crazy driving game. In this title you can once again control the mighty red machine and work your way through a myriad of racing challenges. As always you must use your vehicle to race and to destroy the other monster trucks who are trying to do you damage!
During each level you must also try and collect the red rubies – you can use these rubies to increase your score and to purchase upgrades for your vehicle at the end of each level. Improve your vehicles survivability and weapons so you can unleash even more damage on the other monster trucks.
Car Eats Car 6 is a free online driving game on Round Games.