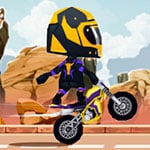 Enjoy the latest free trial motocross games online and explore beautifully designed levels with hard and fun to overcome obstacles in Cartoon Xtreme Trials. Some of the latest simulator 3D Motorcycle trials games are known as observed trials. That is a non-speed event on specialized motorcycles. The sport is most popular in the United Kingdom and Spain, though there are participants around the globe. The modern trials motorcycles are distinctive in that they have evolved in extremely lightweight with suspension travel that is short, relative to a motocross or endure motorcycle.
Motorcycle trials are often utilized in other motorcycle sports. Or just as a way to cross-train, as trials require fine throttle, balance, and machine control. All of that can be found in our latest exclusive game called Cartoon Xtreme Trials. Cartoon Xtreme Trials Game is similar to Houston bike trails and can even say it's a clone of the bike trails cape cod. With thirty levels and five unique motocrosses, you are in for big and intense surprises. Unlock all the bikes from the game upgrade them to be faster and lighter. Use the nitro to make the best breathtaking jumps. So enjoy and have fun in playing Cartoon Xtreme Trials.
Also make sure to check out Xtreme Speed Stunts BMX Game, you may enjoy playing it.