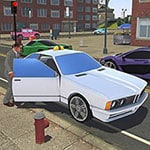 Crazed Taxi Mad and Furious is a fun game that allows you to build up your own taxi service. How about setting up a Taxi company out of nothing? You only have your old car and a good idea. People from big cities need to travel as quickly as possible. So you are here to fulfill their every wish in Crazed Taxi Mad and Furious Game. Search for customers and get them where they need at the exact time. Otherwise you will have bad reputation and you will not get paid. This is a problem because petrol is expensive.
Start your business in Crazed Taxi Mad and Furious Game with a beat down old car, earn money by picking up customers, and build up your business. Follow the arrow to find your customers and drop them off where they need to go. Gradually you build up a good name and money will be poured. Then you can buy a better, more convenient and faster vehicle. So do you have enough courage to start this kind of business? Enjoy and have fun in playing Crazed Taxi Mad and Furious Game. Good luck.
Also make sure to check out Furious Road Game, you may enjoy playing it.