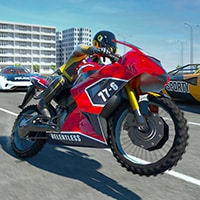 Get ready for an exotic stunt master and adventurous Drive Bike Stunt Simulator 3D Game. It is a realistic game experience. It will test your skills, strategies, and patience. This Bike simulator is all about thrill, stunts, risks, and missions. You are joining in races against time and don't forget that time waits for no one. Drive Bike Stunt Simulator Game has different close-to-impossible missions that challenge skilled riders. With the given instructions, you will have to finish the missions, each harder than the other. Just start your engine and hit the gas of an extreme bike. So you can experience the stunt master motorbike racing and enjoy sports bike sound.
It is a free bike simulator game with tons of possibilities:
Perform insane bike stunts as you jump over vehicles, pull wheelies, do amazing flips, and wreck throughout the city. It has a first-person view perspective and real HD visuals to the never-ending bike riding genre. So take full control of your motorcycle in Drive Bike Stunt Simulator Game. Check the possibility of the oncoming stunt or mega ramp, and always keep an eye on your rivals. If you are a very fast-speed stunting grand bike racer, play Drive Bike Stunt Simulator Game. So you will be ready to experience the real rampage new stunt bike rally with no limits of speed. The fantastic and amazing motorbike stunts challenges will blow your mind. Crazy smart bikers and super flying jumper driving stunt environment make this game more interesting.
It's a time to show your racing stunt skills to complete and achieve all levels in Drive Bike Stunt Simulator Game:
In this new motorcycle bike racing stunt 3d, every level is more thrilling and addictive rather than the previous level. Also it is specially made for players who are utilizing the valuable skills to complete all the given tasks with bike hill stunts and motorcycle stunting theme. To be the best rider in Drive Bike Stunt Simulator, choose the best motorcycle to drive. Ride your bike along the endless roads and overtake like a skilled rider. So upgrade and purchase new bikes to complete the problematic mission and earn coins. Drive Bike Stunt Simulator Game has different bikes with various colors like red, yellow, gray, black, and orange. But each has different speed control and handling to complete the impossible missions. Camera angles and controls are gorgeous.
Game Features: Amazing and cool HD graphics. Easy and smooth control. Realistic bike 3d models. Huge open world environment. Real Sound Effects. Great Collection of Latest Motorbikes. Realistic Motorbike Physics. Dynamic camera angles. Easy to play motorbike driving controls. Easy to play motorbike with Dynamic Controls (Tilt, Buttons and Accelerometer). Drive Bike Stunt Simulator has the most challenging off-road bike game. Thrilling bike racing on tricky trails. Also the game features: Offline play, upgrade option, variety of bikes and breathtaking views.
Also make sure to check Police Chase Motorbike Driver Game, you may enjoy playing it.
The gameplay video is available on YouTube: