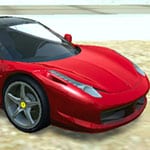 Evo-F2 is a cool 3D driving game with some of the most awesome cars you can find out there. Nothing is missing from what you have loved in the first part Evo-F Game, plus new game brings also new possibilities. Drive with expensive cars like Audi around the town and do tricks in Evo-F2 Game. When you look better, you will find ramps almost everywhere. When it comes to the city, welcome to a whole new city to explore. Of course, there are also cars with the fork in Evo-F2 Game to take the broken vehicle to service. This will give you a choice of 10 functional vehicles. So what else is new in Evo-F2 Game? You can use your creativity! Build your own paths. With the help of excavator dig a new functional paths. We will not talking any longer! Start play a fantastic Evo-F2 simulation right now.
Select one of these sports cars and just start racing and drifting on a deserted city full of ramps, obstacles and empty paths. Don't worry if you demolish your vehicles, you can repair them with a button. So just step on the gas pedal and let time inside of a fancy Audi TT, a huge cargo truck or even a tiny forklift and feel free to do whatever you want. Have fun with Evo-F2 Game!
Also make sure to check out Evo-F3 Game, you may enjoy playing it.