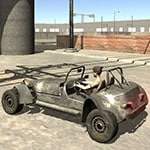 Free Rally game – exciting rally driving experience. Free Rally is an intense and frantic 3D car driving game in which you have the freedom to explore an immense cityscape in a variety of different vehicles. You can choose from eight different vehicles including a Bus, a Sedan, a BMW, and a Dune Buggy. Each vehicle has different controls and handles in a different manner so choose one to your liking, or indeed try out everyone!
The city is yours in Free Rally Game to drive around at your leisure – you can race on the highway and see what top speeds your vehicle can reach. Alternatively, you can race through the streets and try drifting around the corners. Furthermore, when other players join the server you can race against them or indeed try and smash their vehicles! Explore this vast open world and test your driving skills today!
The controls are simple in Free Rally Game:
The controls are simple and complement the range of vehicles from BMW or minivan to a bus. The huge playing area allows players to explore freely and use these different kinds of vehicles. As with other car games, you can crash your car jumping. So be careful and try to control your epic stunts in Free Rally Game. Race through the highways demolishing all kinds of items and obstacles. Remember that the playing area other players race on is dangerous – watch out as the other drivers may try to smash your car and cause damage, or even explode your vehicle.
There is nothing quite like jumping over highways demolishing the city. The BMW car jumping over highways is absolutely epic – it handles fantastically and can pull off some amazing stunts. When playing Free Rally, the BMW across minivan's lined up is a cool trick to pull off. See what brilliant stunts you can pull off in Free Rally game and test your driving skills today. The combination of superb graphics, awesome handling, and daring stunts make for an exciting title. So enjoy and have fun.
Also make sure to check Buggy Rider Game, you may enjoy playing it.